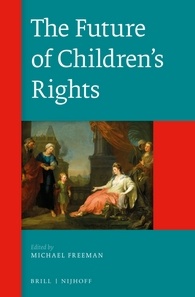 Edited by Michael Freeman
This volume is in part intended to celebrate the 25th anniversary of the United Nations Convention on the Rights of the Child. We are now a generation on from its formulation, and, as this varied collection of articles by leading thinkers in the field reflects, children's rights have come a long way. Yet the aim of this volume is not to look back, but to take stock and look forward. It explores subjects as diverse as socio-economic rights, corporal punishment, language and scientific progress as they relate to children and their rights, and offers new insights and new ideas. Edited by one of the most respected and leading scholars in the field, The Future of Children's Rightsconstitutes a stimulating and useful resource for academics and practitioners alike.
Editor: Michael Freeman
Subject: Human Rights and Humanitarian Law › Children's Rights, International Law › Public International Law
ISBN13: 9789004271760
E-ISBN: 9789004271777
Publication Date: December 2014
Copyright Year: 2015
Format: Hardback
Publication Type: Book
Pages, Illustr.: Approx. 400 pp.
Imprint: Brill | Nijhoff
Language: English
Michael Freeman is Professor Emeritus of English Law at University College, London, Fellow of the British Academy, and a Barrister of Gray's Inn. He is the Founding Editor of The International Journal of Children's Rights and the author of The Rights and Wrongs of Children (1983), The Moral Status of Children (1997), and Children, their Families and the Law(1992) . He was the Editor of Current Legal Problems for many years and a Founding Editor of The International Journal of Law in Context. He has been selected to give the 2015 Hamlyn Lectures on Children's Rights. He also writes on medical issues and on legal theory; the 9th edition of his Introduction to Jurisprudence was published in 2014.
Table of contents:
Introduction Michael Freeman;
The Ageing of the UN Convention on the Rights of the Child Philip E. Veerman;
Not Merely Rights for Children but Children's Rights: The Theory Gap and the Assumption of the Importance of Children's Rights Lucinda Ferguson;
The Long Awaited: Past Futures of Children's Rights Anne McGillivray;
Children's Rights Research Moving into the Future – Challenges on the Way Forward Ann Quennerstedt;
Economic and Social Rights, Budgets and the Convention on the Rights of the Child Aoife Nolan;
Ending the Physical Punishment of Children by Parents in the English-speaking World: The Impact of Language, Tradition and Law Bernadette J. Saunders;
The Third Optional Protocol to the UN Convention on the Rights of the Child? – Challenges Arising Transforming the Rhetoric into Reality Rhona Smith;
A Child's Right to Enjoy Benefits of Scientific Progress and Its Applications Brian Gran, Margaret Waltz and Holly Renzhofer;
International Human Rights Standards and Child Imprisonment: Potentialities and Limitations Barry Goldson and Ursula Kilkelly;
Authors of Their Own Lives? Children, Contracts, Their Responsibilities, Rights and Citizenship Tom Cockburn;
Justifying Children's Rights John Tobin;
Incorporation of the United Nations Convention on the Rights of the Child in Law: A Comparative Review Laura Lundy, Ursula Kilkelly, Bronagh Byrne;
Children with Disabilities: A Critical Appraisal Maya Sabatello;
Building the 'Big Society': Exploring Representations of Young People and Citizenship in the National Citizen Service Kate Bacon, Sam Frankel, Keith Faulks;
Reflections on the UNCRC's Future from a Transdisciplinary Bricoleur Richard C. Mitchell;
Reconceptualising the Child's Right to Development: Children and the Capability Approach Noam Peleg;
Implementing the Convention on the Rights of the Child for 'Youth': Who and How? Ellen Desmet;