Over vredesopvoeding
Wat betekent het eigenlijk, dat de 21e eeuw begint met een door de Verenigde Naties uitgeroepen Internationaal Decennium voor een Cultuur van Vrede en Geweldloosheid voor de Kinderen van de Wereld, en tegelijkertijd een tien jaar bestaande leerstoelVredespedagogiek wordt opgeheven? Wat houden Nieuwe wegen voor vredeseducatie in als de vredesopdracht in opvoeding en onderwijs nergens structureel is geworden?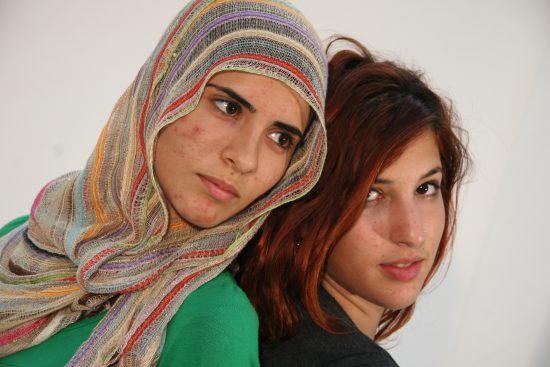 De eerste vraag die opkomt is natuurlijk of vredesopvoe­ ding niet te veel gemarginaliseerd geweest is en hoe dat dan komt. Daarna is het nuttig ons af te vragen wèlke de nieuwe wegen zijn om in te slaan naar de cultuur van vrede, die deVerenigde Naties zo duidelijk propageert. En ten slotte, wat bete­kenen die nieuwe wegen in de zo diverse conflictsituaties, die de wereld kent?
Dit is het begin van een artikel dat is gepubliceerd in:
Nieuwe wegen voor vredeseducatie, Perspectieven voor de 21e eeuw
Onder redactie van L.J.A.Vriens, J.M. Kuijpers, G. Zoon
ISBN 90 6665 512 7, Uitgeverij SWP Amsterdam
Lees het gehele artikel als pdf geef vrede een kans!
De foto bij dit artikel is ter beschikking gesteld door Stichting Givat Haviva. De foto van de twee meisjes is het "logo" voor de tentoonstellingen "Through Others' Eyes", die zij organiseren:
Through Others' Eyes
Ruim 10 jaar geleden werd het project "Through Others' Eyes" gestart, waarbij Joodse en Arabische jongeren of vrouwen kunnen deelnemen aan een fotografiecursus, waarin ze niet alleen de nodige vaardigheden opdoen, maar ook een unieke kijk krijgen in de levens van de andere deelnemers.
Lees meer over Through Other's Eyes.